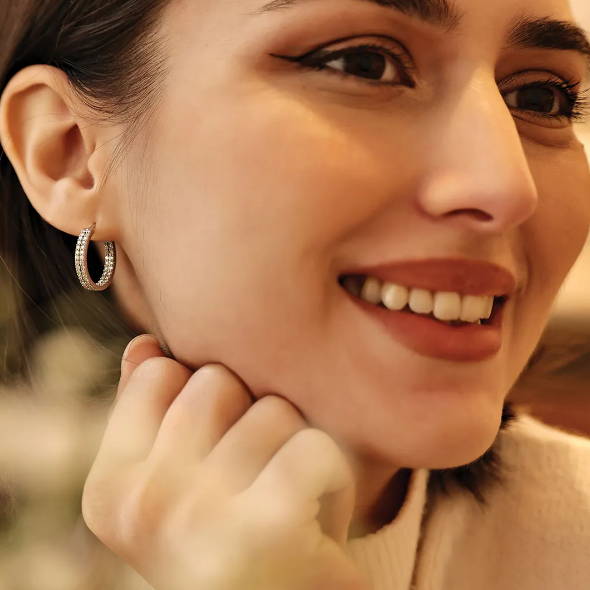 Since 1999, Netaya has been providing end-to-end jewelry experience, right from designing to crafting to selling. We provide an apt solution to your jewelry requirements, for every mood and occasion.
Since our inception, our aim has been to bring the best quality at reasonable rates and make fine jewelry for everyone. We add a touch of personalization to our jewelry that makes each one of you feel that the jewelry is specifically curated for you.
When people trust Netaya, they share our pursuit of quality, purity, excellence, transparency, and value.
Women wish to own a variety of unique pieces that make them more beautiful and confident about themselves, and Netaya provides just that. We love when women flaunt their diamond studs passionately or smile every time someone compliments their pretty bracelet. For 22+ years, our jewelry has made women love themselves even more. Netaya's jewelry has a contribution in the cheerful moments and memories these women have. We wish to deepen and share this relationship by crafting jewelry that they'll cherish for years.
The world of fine jewelry is a mix of art and science, and Netaya has mastered this combination while providing significant quality jewelry.
Netaya understands that women need to feel at their best when they wear jewelry. And usual jewelry may not do just every time. That's why Netaya believes in crafting unique masterpieces that fit exclusive celebratory reasons.
Unmatched Quality Everytime

The stones and metals used in our masterpieces are sourced from highly reputed vendors. Whether it's the clarity of solitaire diamonds or the purity of precious metals, Netaya chooses only the highest grade for everything. Our jewelry is labored by highly trained and well-experienced craftsmen using the latest manufacturing technologies that result in precision. All our pieces adhere to strict standards of ethical sourcing. This also helps us provide the best fine jewelry at an unmatched price, supported by a 30-day satisfaction guarantee and 5-star customer service.
The world of fine jewelry is a mix of art and science, and Netaya has mastered this combination while providing significant quality jewelry.
Topped the Ecosystem of Fine Jewelry

With our ever-increasing list of products that are the result of our customers' expectations and the latest trends, we aim to continue the legacy. We work hard to provide outstanding craftsmanship, primmest quality jewelry, variety combined with value, and fine jewelry expertise to keep the streak of our legacy alive. That's why we provide prompt customer service and customer-friendly solutions like easy returns, regular deals & discounts, and much more.
Considering our quality, esthetics, and longevity of the jewelry combined with our customer service, every penny customers pay is total value for money.